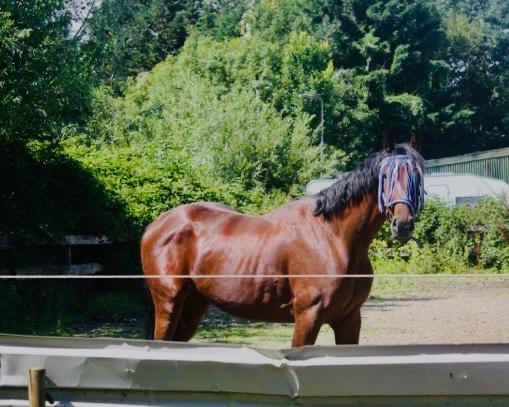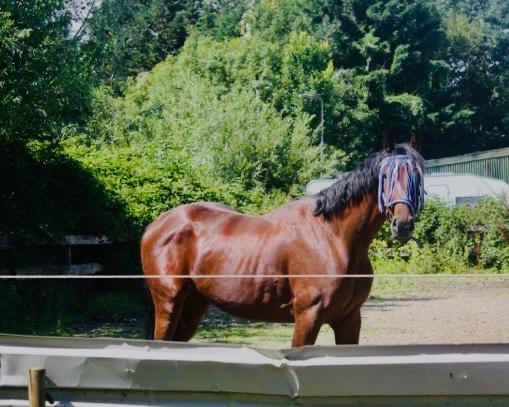 Ik kreeg Frederik op de leeftijd van 2,5 jaar en hij was nog hengst.
Hij was toen al mega groot (1.73m) met mega lange slungelbenen.
Hij heeft ataxie en een tijd als veulen in een sloot gelegen, bekend is alleen niet of hij door ataxie in de sloot is gevallen of dat het daardoor veroorzaakt is.
Hij had moeite met stilstaan, constant evenwicht zoeken, lopen ging met een soort hanentred. Achterbenen die hij wijd neerzette en met scheve achterhoeven.
Hij kon geen voetjes geven.
Zijn ribben waren duidelijk zichtbaar met een strakke huid erover.
Na de eerste behandeling, nadat hij gecastreerd was, zag je hem al veranderen, hij kon ineens staan als een paard op 4 benen, lopen verbeterde, achterbenen werden niet meer zo hoog opgetild en meer kracht in het lijf.
Hij is nu 2 keer behandeld, gaat in galop nadat hij opgestaan is na het rollen, hij kan heuvel op en heuvel af, loopt meer in tact.
Hij krijgt mooie bespiering en de spieren over de ribben ontspannen.
Hij rolt mooi over de rug.
Op naar de volgende behandeling!
De eigenaar van dit paard blijft liever anoniem, maar wilde toch het verhaal delen. Frederik is dan ook een fictieve naam.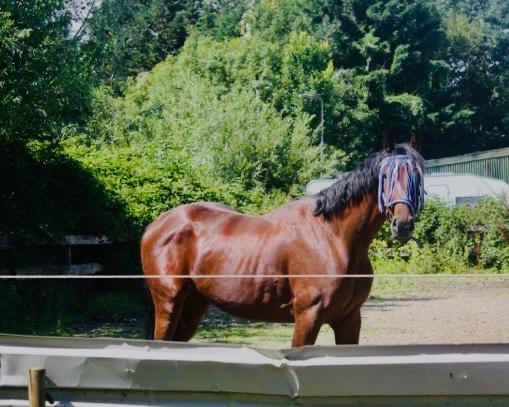 I got Frederick at the age of 2.5 years and he was still a stallion.
He was already mega big (1.73m) with mega long lanky legs.
He has ataxia and as a foal was in a ditch for a while. We don't know if he fell in the ditch because of ataxia or if it was caused by it.
He had difficulty standing still, constantly searching for balance, walking with a sort of cocked gait. His hind legs were set wide and his hind feet were crooked.
He could not give feet.
His ribs were clearly visible with a tight skin over them.
After the first treatment, after he was neutered, you could already see him change, he could suddenly stand like a horse on 4 legs, walking improved, hind legs were not lifted so high anymore and more strength in the body.
He has been treated 2 times now, goes into canter after he gets up after rolling, he can go up hill and down hill, walks more in tact.
He is getting nice muscling and the muscles over the ribs are relaxing.
He rolls nicely over the back.
On to the next treatment!
The owner of this horse prefers to remain anonymous, but still wanted to share the story. Frederick is therefore a fictitious name.